Our Story
#AlkalyDo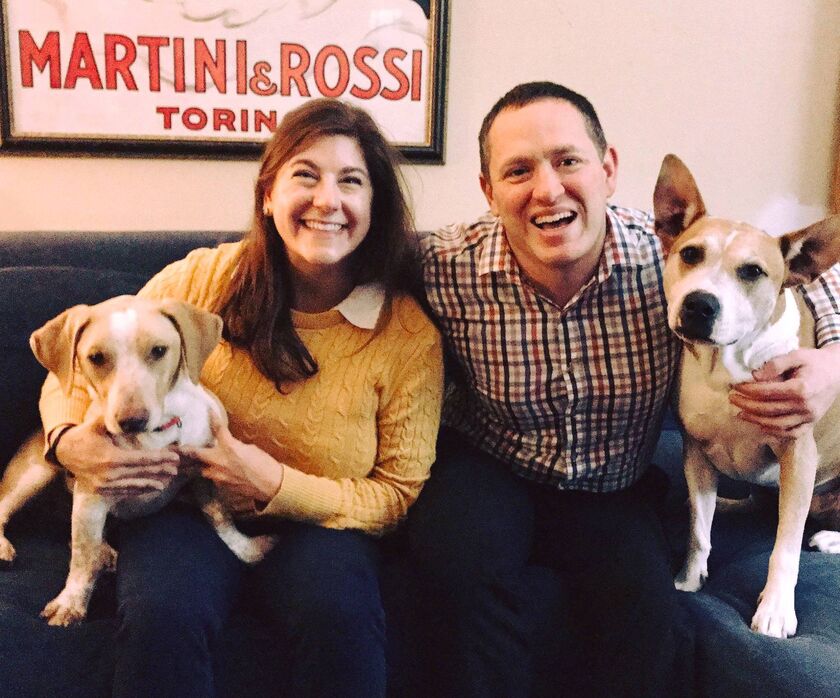 Sam and Ben's love story began as many have this decade … With a romantic swipe to the right in a dating app on their respective iPhones. Actually, make that TWO dating apps; they had first "matched" on Tinder sometime in 2015 and exchanged messages but never actually met ... The timing wasn't right and Sam soon deleted the app altogether.

Fast-forward a year, digital matchmakers brought them together once again via Bumble and Ben made sure not to bungle this opportunity. Several serendipitous stars were already aligned in their favor: They were both marketing professionals, had a mutual friend, and another Ben (much larger and four-legged) was already part of Sam's life.

Their first date was July 8, 2016 at the Skirball Center, coincidentally just a short hop up Sepulveda Blvd. from their wedding venue. The museum was open late for a concert that summer evening, and after getting acquainted over drinks the two found themselves dancing to the side of the stage, where they shared a quick kiss. That first date led to a second just two days later, and before long Sam and Ben were planning their first of many trips together … A Labor Day jaunt to Palm Springs where Ben finally popped the question: "Will you be my girlfriend?"

Since then, Sam and Ben have journeyed much further afield: to Prague and Berlin, Scotland, Tobago and Portugal … Where on Dec. 30, 2017, in a verdant royal garden in the city of Coimbra, Ben posed an even bigger question: "Will you marry me?"

Sam said yes, not only cementing their love and life together but legitimizing their dog-son Alfie, who had been living as a bastard child since his adoption a few months prior. Along with Lady Daga, Sam's previously-rescued pup, they reside as a family of four in Brentwood.

Sam and Ben are overjoyed to bring so many family members and friends together to celebrate Veteran's Day … Oh, and the start of their journey together as husband and wife. Aside from dogs, and travel, and creatively-prepared Brussels sprouts, there's nothing Sam and Ben value more spending time with those they hold near and dear!
The Wedding
Sunday, November 11, 2018
4:15 PM
Attire: Cocktail
Ceremony and Reception
Mountaingate Country Club
12445 Mountaingate Dr, Los Angeles, CA 90049, USA
Wedding Party
Paul Alkaly - Best Man
I am the younger and better looking Alkaly sibling and self-anointed "Best Bro" of this wedding party. Having survived Ben's torment of noogies and Indian burns, I now look forward to regaling wedding guests with embarrassing stories of his youth. I reside back in Los Angeles after a decade spent milling about Brooklyn, where I met my wife Deanna. You'll easily notice me at the wedding by my aforementioned good looks and nonstop moves on the dance floor.
Larry Shoham - Groomsman
Benjy (NEVER Ben) and I met in Ms. Barron's 2nd grade class. He was a year younger than me, but advanced for his age, so they put us in the same class. I always liked going over Benjy's house because I grew up in home full of diabetics and he always sugary cereal in his pantry. We continued to be friends because he had cable TV and a Vetrex video game console. Years passed and the video games got better: Vetrex begat Nintendo. Nintendo begat Sega Genesis.

But Benjy remained the same. His love for condiments. His aversion to meat on the bone. His adorable irritability and unique sense of humor.

Other friends had better pantries, more expansive cable channels, and newer video game systems, but I stuck it out with Benjy. Playing little league, trading baseball cards, doing the bar mitzvah circuit, agonizing through Raiders games, watching the OJ trial together. Yes, our interests diverged at times (I don't understand his obsession with soccer), but my loyalty to Benjy — aka "Da Bumbles" — is unbreakable.

There was a time when I thought that Benjy reserved his love only for fiery salsas and Boca Juniors. I'm so happy that Benjy has found his true ride-or-die partner in Sam. I've never seen Benjy so happy, so tranquil. I even think his allergies have gotten better. Thank you for loving my buddy!
Matt Hurst - Groomsman
Odds are that anyone who is reading this is seeing an edited version. That's because Ben is a writer's nightmare and a copy editor's dream. And, really, that's how we met. Ben was my first-ever boss when we attended UC Santa Barbara, taking a cub reporter under his arm in the dungeon of the Daily Nexus and serving as the Yoda to my aspiring Skywalker.

My communications career blossomed because of Ben's guidance early on, while our friendship has grown even better and stronger. Through multitudes of Gaucho games, racing to announce famous people's deaths to each other via text message, working the word "bro" into every sentence by creating our own BROcabulary, making sure we get "fresh cuts" (haircuts), and that we "bang on" some food, I don't know that I have more inside jokes, quotable lines, or a more solid friendship than with Ben ... or as I call him, "Dizz" (a story for another day/website).

I am privileged to be by his side for what will surely be a deeeeecent wedding day. Note: This could be Ben's favorite photo of me, because he took it. I'm broadcasting a UCSB basketball game (possibly his first love) while executing the classic, classy "Dizz" point.

Mike Andrick - Groomsman
Ben and I met while working at Loyola Marymount University in 2014. Brought together by a monthly meeting of people who post, "Like" and #hashtag for a living, we discovered a shared passion for world football and whiskey (though Ben casts an eye toward Scotland while I, in good taste, prefer bourbon). Our friendship then grew as we traveled together to higher education conferences across the country in a shared ambition to remain LMU's most competent communications professionals. Ben may have since left LMU's bluff for bigger things in Westwood, but he still inspires and mentors me with his budget-conscious globe-trekking tips, while I advise him on how to train and tame an ornery dog.
Alexis Salomone - Maid of Honor
Sam and I met on a cold February day in 1984, and, as video evidence demonstrates, it did not go well: When prompted by our mother to give her new little sister Alexis a kiss, Sam leaned in. But as she did so, you could almost see her 2.5-year-old brain process the reality of now splitting our parents' attention three ways instead of two, and Sam quickly redirected her kiss to instead give me a hearty swat. Thanks to our mother's quick reflexes, I survived.

Despite the rocky start, Sam and I have had countless hours of fun, laughter, inappropriate jokes, and singing pop music at the top of our lungs for the over three decades we have both been on this Earth. I've finally grown out of tormenting Sam by sneaking into her room to steal her clothes and nail polish, but mostly because I now live far, far away in Watertown, MA with my husband and our two fat and fluffy cats.

Despite the distance, I'm working hard to live up to my Maid of Honor duties and can't wait to celebrate Ben and Sam in November. I am thrilled and thankful that Sam and Ben found each other- and that they have given me a new project on which to focus my type-A, detail-oriented weirdoness. #doubleblessing
Katy Fullan - Bridesmaid
Samantha and I have been friends forever. Growing up in Chicago, we enjoyed rollerblading along the lake, trips to the Water Tower mall, and leaving school to watch Animal Planet or to do Tae Bo DVDs in her basement. I'm beyond thrilled to be a part of Sam and Ben's special day, and it brings me great joy to see Sammy so happy. I'm also beyond thrilled to be aunt to her first born child, Ben the Horse. Sluggers forever!
Lindsay Sutton - Bridesmaid
Samantha and I met when we were randomly assigned to be roommates at University of Michigan 's freshman orientation. Samantha put me in stitches that night and the laughter has never stopped! Not only was she my first friend from college, we stayed friends and shared addresses for most of time as Wolverines: Fletcher Hall, Alpha Chi Omega, 1004 S Forest, the list goes on! Our shenanigans even extended beyond Ann Arbor while sailing around the world together on Semester at Sea in spring of 2003. I feel honored to count Sam's daughter, Lady Daga, as my God Dog.
Ashleigh Stanford - Bridesmaid
I first met Samantha where we worked together at Discus Dental. I'm eternally grateful for that one fateful day we were both working late and bonded over music. Our friendship grew quickly, as is natural when you meet someone as hysterical, kind, and loving as Sam. We bonded over poor relationship choices (mostly mine), work, travel, food, and good relationship choices (YAY Ben!).

Sam is an absolute joy to have in your life, and I can't wait for the wedding of the century, where a very lucky Ben will get the promise of having Sam in his life forever. Despite moving to the other side of the world, Samantha is someone who will always be a best friend. I love her dearly and can't WAIT for this union.